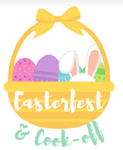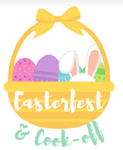 EasterFest has been a Kerrville tradition for over forty years—and this April 8, the celebration is back!
Kerrvillians of all ages is invited to come out and enjoy a beautiful, fun-filled day along the Guadalupe River at Flat Rock Park. The festivities include an Easter egg hunt, food and craft vendors, live music, a car show, and, of course, the BBQ & Chili Cook-Off. This year's Easterfest supports two important causes. This year's Easterfest supports two important causes—K'STAR and Mercy Gate.
Hosted by Leadership Kerr County Class #37 and the Kerrville Area Chamber of Commerce, Easterfest returns on Saturday, April 8, 2023, from 10 a.m.–5 p.m. at Flat Rock Park, located at 3840 Riverside Drive. Make plans to come on out and join the eggstravaganza!
***NO OUTSIDE ALCOHOL/COOLERS ALLOWED. BEER/WINE & FOOD VENDORS ON-SITE!***
VENDOR SPACES ARE CURRENTLY FULL
If you would like to be added to the waitlist, please contact Wynita Yancy, at marketing@youth-ranch.org or 312-617-4398
EGG HUNT TIMES
*Approximate Times
11 AM - (AGES 0-4)
11:20 AM - (AGES 5-8)
11:40 AM - (AGES 9+)
SPONSORSHIP OPPORTUNITIES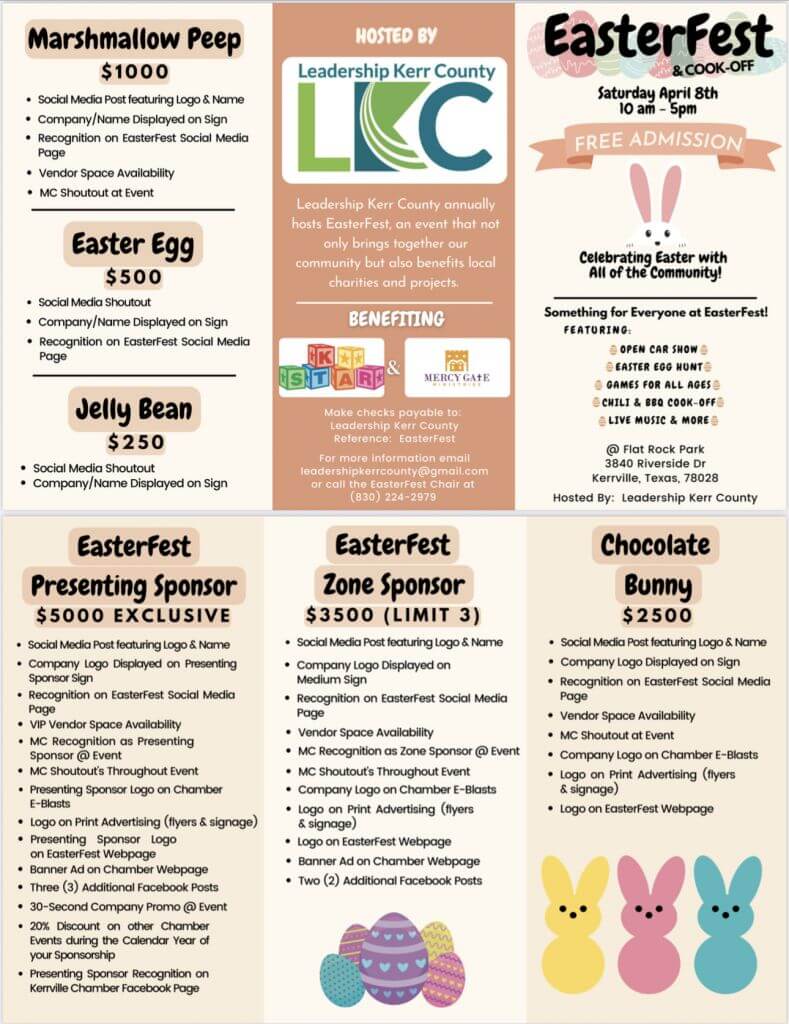 or call the EasterFest Chair at 830-224-2979
Cooks May Begin Setup
Thursday at 8 am
Over Night Camping is Allowed Thursday, Friday & Saturday Only.
Must be parked by 10 am on Saturday. Only day cooks will be allowed in.
ENTRY FEES
$25 CASI Chili (chili grind only)
$25 Amateur Chili
$25 Beans (Lonestar) - 75% payback
$25 Jackpot Salsa
$150 BBQ One or All 3 (75% Payback) - Chicken, Pork Spare Ribs, Brisket
TURN IN TIMES
10:00 AM - Salsa
11:00 AM - Beans
Noon - Chicken
1:30 PM - Pork Spare Ribs
2:00 PM - CASI Chili & Amateur Chili
3:00 PM - Beef Brisket
NO PRE-REGISTRATION
Registration
Friday 4 pm - 6 pm & Saturday - 8 am - 10 am
No Meat Inspection
CAR SHOW INFORMATION
Registration:
Registration will be onsite beginning at 8:30 am
Contact – Mac Anderson, 830-459-3366
$25 per entry
Optional - $5 entry for 50/50 drawing
Trophies will be awarded in the following categories:
Best Custom Truck
Best Custom Car
Best Custom Motorcycle
Best Restored Vehicle
Oldest Restore
Best Presentation
Orphan
Best Paint – Car
Best Paint – Truck
Best Paint – Motorcycle
Judging:
Each participant will be given a scorecard to judge the entries. Only participants are allowed to participate in the judging/scoring.